Chartsview blog
General trading and all to do with financial markets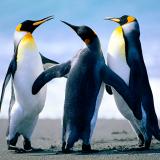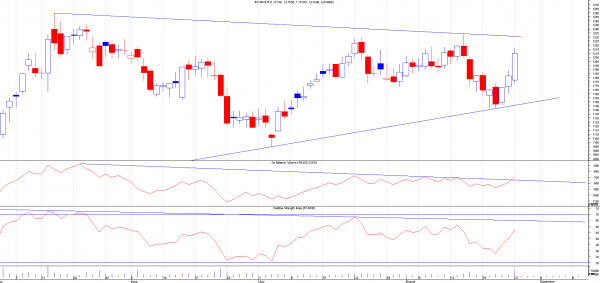 I thought id do a blog on an individual company today as have not done a blog for a while. Hopefully this would be useful to some.
BG Group
Theres a nice symmetrical triangle formed on this share. This can be traded ether side of a breakout of the symmetrical triangle. Im favouring a break to the upside on this share but will not second guess the breakout as thats gambling.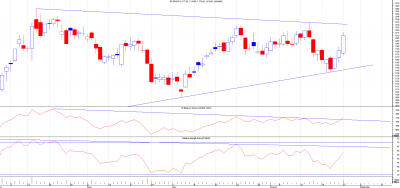 The obv (on balance volume)has broken out of the down trend line early so may be an early indicator .Look for the rsi (Relative Strength Index) to also breakout to comfirm.
So id be looking to go long on a breakout of 1231 but will use a 15 point stop just incase im wrong.Ill be watching this closely before placing my trades.If this does breakout a safer way to enter maybe wait for the back test of 1231.
If this does breakout then i would be targeting 1357 resistance area. This has strong resistance so that would be my natural target.
support: 1147,,1109.50(gap),,1089.50(gap),,1027
Resistance: 1231(top of triangle),,1234,,1259.50,,1357(strong)
as can be seen from the resistance areas there not much strong resistance until 1357 if 1231 was to break.
Please do your own research on this company as my style of trading is not for everyone.
Ill try and do simple blogs like this in the future so as people can learn from them.
Trackback URL for this blog entry.